Men are notoriously hard to buy for at Christmas – well, any time of the year in fact. There are those who buy what they want, when they want – which leaves it hard to find a great present for special occasions. Then there are those who are new in your life and you're still working out what makes them tick. And of course, your teenagers or young adults, who simply grunt "I don't know" when you ask them. Thanks for the help guys!
Apple Ahoy
Fortunately, as we move towards Christmas 2022, there's some great news. And it comes in the form of the Apple iPhone 13. Set for release on September 24, the iPhone 13 is what the Apple world has spent much of 2022 waiting for. It was unveiled by Apple on September 14, and it comes with updated cameras, new colours, faster chip and smaller notches – making it a must-have for all Apple fans.
But isn't the Apple iPhone expensive? Well, that depends on your budget. The good news is that even if you can't afford to buy the man in your life the new phone itself, there are plenty of accessories you can afford.
AirPods: Any AirPods will make the iPhone experience better and this year, there are new AirPods hitting the market in time for Christmas. The AirPods 3 are similar to the AirPods Pro, but of course, an updated, higher quality version. If you want a more affordable option, there's nothing wrong with the original AirPods or AirPods 2 either.
If AirPods aren't his thing, shop around for a great set of noise-cancelling headphones instead. There are some styles that even have connections to Alexa so you can hands-free your music no matter where you are.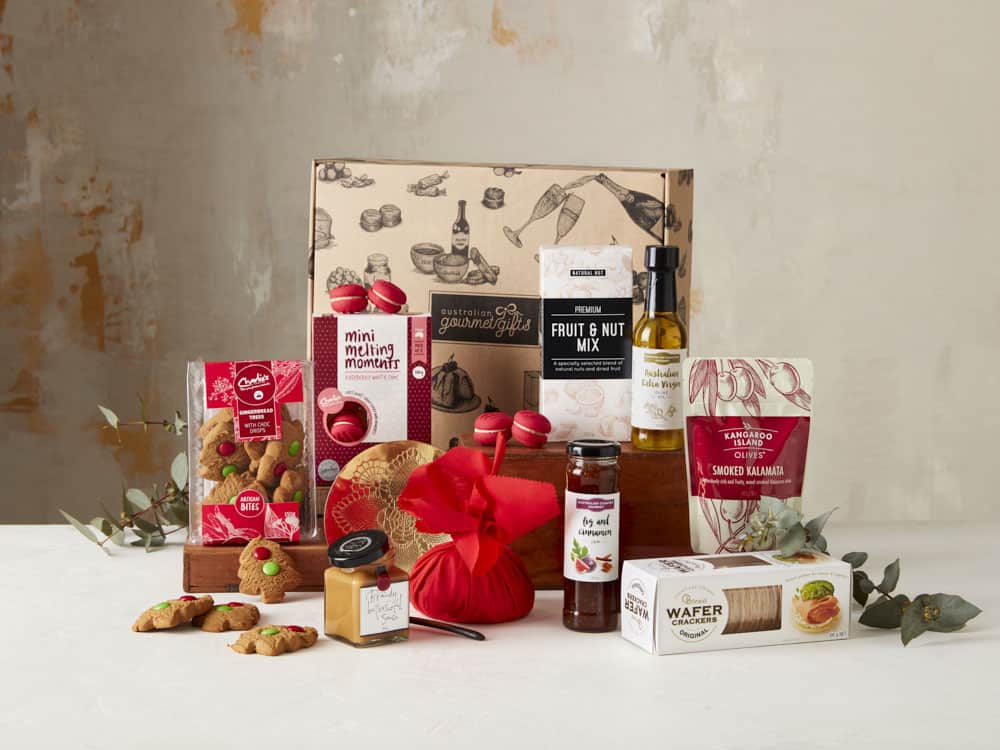 MagSafe accessories: MagSafe provides a range of accessories compatible with the iPhone 13, including silicone and leather cases and wallets, battery packs, chargers and duo charger, and car vent mounts, among others.
For the camera: You can get add-on camera lenses for modern iPhones that offer a 2x wide angle image, as well as a fisheye lens, macro lens and 2x zoom telephoto lens. A tripod is also a great Christmas gift idea for budding iPhone photographers.
If he's a gamer with his iPhone, iPad or Apple TV, you might look at wireless gaming controllers so he can always be at the top of this game. Make sure they are iPhone Apple-certified for compatibility.
Other Great Ideas
If he's not an Apple fan, don't worry. There are plenty of other fantastic ideas for gifts and Australian Christmas Hampers. Here are a few to get you started on your shopping journey:
Electric toothbrush
Air fryer
Barbecue / utensils
Backpack / laptop bag
Velvet slippers
Sunglasses
Clothes or clothing voucher
Leather jacket
Bicycle
Pillow
Boots
Cushion socks
Firepit
Under Desk Elliptical Trainer
Stubby holder
Multi-tool
Fishing rod
Online class
And if you're still stuck for ideas, you can't go wrong with an Australian Gourmet Gifts Christmas hamper! Fill him up with some of his favourite snacks, add a taste of class with delicious wines, or treat him to something different with a whiskey or beer hamper, complete with drinks and snacks he's guaranteed to love.